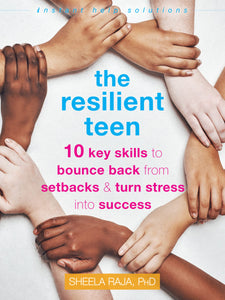 The Resilient Teen: 10 Key Skills to Bounce Back from Setbacks and Turn Stress into Success
The Mind's Eye II
Regular price $17.95 Sale
10 powerful skills to help you manage stress, bounce back from difficult situations, and rewire your brain for happiness and success!
Being a teen today is stressful. That's why you need real tools to help you cope with all of life's challenges—from small stressors like homework, social media, and dating to serious trauma resulting from bullying, school shootings, violence, and now—pandemics. The key to dealing with all of these difficult events is resilience—the ability to recover from setbacks or trauma, and forge ahead with emotional strength. The best thing about resilience is that it can be learned. This book will help you learn how to be resilient, so you can weather life's storms and reach your goals.
In The Resilient Teen, psychologist, teen expert, and trauma specialist Sheela Raja offers ten skills grounded in key principles from psychology and neuroscience to help you manage difficult emotions, recover from difficult situations, and cultivate a sense of joy—even in the face of setbacks and modern-day stressors. You'll learn essential strategies for self-care, how to establish a healthy lifestyle, and how to set limits on technology. You'll also discover how mindfulness can help you deal with stress and challenging emotions in the moment, tips for building better relationships with family and friends, and tools for dealing with disappointment.
Most importantly, this book will show you how to increase your own sense of joy, purpose, and meaning—even when things seem less than awesome.