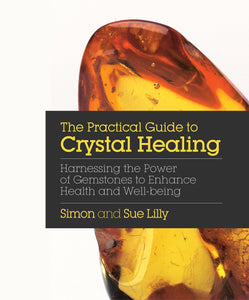 The Practical Guide to Crystal Healing: Harnessing the Power of Gemstones to Enhance Health and Well-being
The Mind's Eye II
Regular price $15.95 Sale
The ultimate handbook on the use of crystals for healing, with expert guidance on how to achieve results – this is a great addition to every crystal enthusiast's library and a must-have for beginners.

Crystals have been used as a complementary therapy to combat both physical and emotional ailments for centuries; their unique vibrational resonances able to restore balance to the body's energy systems and enhance spiritual, mental and physical wellbeing.

Alongside guidance on the most important crystals to use for specific illnesses and situations, whether it be insomnia, migraines, depression or the upheaval of moving house, crystal therapy experts Simon and Sue Lilly provide practical tips on how to use these precious stones to restore overall health and further spiritual development. Using clear, step-by-step instructions, 
The Practical Guide to Crystal Healing
 will teach you how to use crystals to:

   • heal the body
   • balance the mind
   • cope with change
   • feed the spirit
   • and live in harmony.

Packed with tried-and-tested layouts for healing, guided visualizations and meditations, and an illustrated repertory of key crystals, this is an essential book for beginners and experienced crystal healers alike.