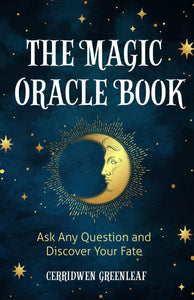 The Magic Oracle Book: Ask Any Question and Discover Your Fate
The Mind's Eye II
Regular price $18.95 Sale
A Daily Source of Prophetic Inspiration
"Ask a question, then open the book and point your finger to a spot on the page—the words will resonate, heal, and inspire you to action. It's fun to do at a party..." —Louise Mayer, author of How to Bury a Goldfish: Ceremonies and Rituals for Everyday Life
Open this book and find the prophetic answers you're seeking, or simply an added dose of inspiration for your day.
The written version of a magic 8 ball. Have an urgent question? A pressing need? A probing thought? Focus intently on it, flip the pages of this book, and stop the page with your finger. Read the words before you—the results are surprising and satisfactory!
Words from the greats.  Author Cerridwen Greenleaf, a writing instructor and medieval scholar, has collected quotes from some of the most renowned thinkers, philosophers, poets, and writers of all time. Find excerpts from a number of poets, from William Shakespeare to Emily Dickinson, Rumi to J.R.R. Tolkien. Crystal ball gazing can be intriguing, but nothing is as clear as the written word!
Invite peace into your day. Taking a moment to pause and reflect on inspiring words can have a significant impact on your day. The author of a number of books on mysticism, Greenleaf employs the ancient arts of divination and clairomancy in this book to provide guidance, encourage spirituality, and inspire meditation.
The Magic Oracle Book:
A prophetic tool and source of inspiration

Answers to questions that encourage further contemplation and self-discovery

A mindful companion, made up of words from great poets and writers