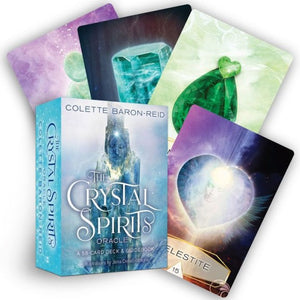 The Crystal Spirits Oracle
The Mind's Eye II
Regular price $29.99 Sale
Do you love crystals? Do you feel an affinity for some but not others? It's not in your imagination—there is an energy to each crystal that is distinct and unique. In The Crystal Spirits Oracle, every crystal is honored as a beautiful gift to us from Mother Earth. Each crystal comes bearing its own message. Imagine that connecting with the crystals in this oracle deck is like communicating with beings of light, frequency, and energy, with different personalities, who have opinions, ideas, wisdom, and special gifts to offer us.
This Oracle deck is populated by the spirits of 58 crystals, each selected for their ability to help you channel divine guidance from the Universe.
In the guidebook, each Crystal Spirit's message is detailed with:
An essential meaning
A general interpretation to guide you
A more focused message on prosperity and abundance
A more focused message on relationships
A meditation to focus on with each crystal
Working with this oracle will return to a state of balance and well-being as you resonate with the healing, stabilizing energies. The crystals' sacred messages are meant to help you—to bring you into harmony during challenging times and to support your dreams taking form as your personal journey evolves.