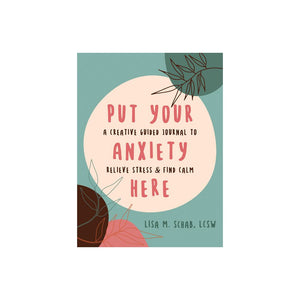 Put Your Anxiety Here: A Creative Guided Journal to Relieve Stress and Find Calm
The Mind's Eye II
Regular price $18.95 Sale
Creative journaling prompts to write your way to calm....
Did you know that journaling can have physical, emotional, and mental health benefits? Research shows that expressive writing can actually strengthen the immune system, lower blood pressure, and release physical tension in our bodies. Writing about our thoughts and feelings can help us clear our minds, release pent-up feelings, ease everyday tension, and let go of negative thoughts and worries.
If you're struggling with anxiety or stress, this journal can help you find instant calm, increase your self-awareness, and enhance your overall well-being. Written by a psychotherapist and guided journaling expert, and grounded in evidence-based therapy, the creative prompts in this beautiful journal are combined with space for you to write, draw, make lists, compose letters, and write down reflections. Also included are sensory-based activities, such as outdoor walks, listening to music, breathwork, calming scents, and more.
If you're looking for therapy that doesn't look like therapy, pick up this journal, write down your worries, let go of stress, and find lasting peace of mind.