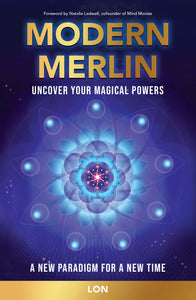 MODERN MERLIN: UNCOVER YOUR MAGICAL POWERS
The Mind's Eye II
Regular price $16.99 Sale
The world is changing every moment. Are you having a hard time keeping up? Do you understand how these changes may be adding extra stress and confusion to your life? Modern Merlin shows you how to navigate the constant changes with ease and a little magic!
Lon expertly takes complex topics like magic, manifestation, multidimensionality, energy, sacred geometry, and the law of attraction, and makes them simple, clear, and easy to understand, enabling readers to discover the sacred patterns that construct our lives and relationships.                 
The tools in Modern Merlin will help you create depth, reason, and purpose beyond your existing belief systems, supporting you as you explore new paradigms and create expanded ways of thinking and feeling. Modern Merlin gives you what you need to use your magic deliberately and skillfully so you can be in full cocreation with the universe.
Modern Merlin has an associated online course offering a deeper introduction to the concepts and patterns that construct your life.