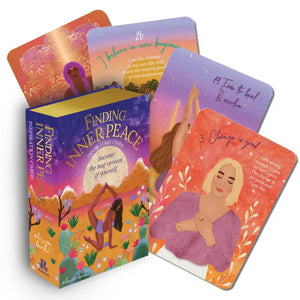 Finding Inner Peace Inspiration Cards
The Mind's Eye II
Regular price $24.95 Sale
The more you feed your mind with positive thoughts, the more you treat your soul and body well, the more you find yourself coming back to your true self. Use these 40 cards to discover and explore your authenticity.

Finding Inner Peace
 is for those who want to live in consciousness to become the best version of themselves and who are looking for some extra motivation and understanding of their journey. These beautifully illustrated inspiration cards have been created to help you to understand that it doesn't matter what your past is or what point in life you are at – you can always look ahead and take your life in your hands.
Does your heart beat so much for the ocean and the beach – but at the same time you are quite attracted to the desert?
You can be in love with the bitter sweet melancholy of the setting sun and with embracing the dark, and yet live for the endless opportunities a new morning offers and the light to awaken your soul.
You are pure light. No matter how many times you've been walking through the dark, your soul will always remember if you just open your heart and listen.
The more you feed your mind with positive thoughts, the more you treat your soul and body well, the more you find your way back to the true self you really are.