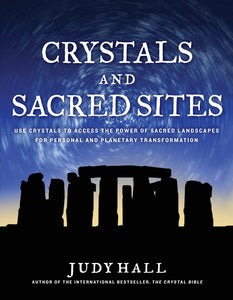 Crystals and Sacred Sites: Use Crystals to Access the Power of Sacred Landscapes for Personal and Planetary Transformation
The Mind's Eye II
Regular price $24.99 Sale
From the pyramids of Giza to Stonehenge to Machu Picchu, people are captivated by the magic of the world's most sacred and mysterious sites.
Crystals and Sacred Sites
teaches you how to tap into the healing energy of these sites from anywhere in the world using the power of crystals and sacred stones. Noted crystal authority Judy Hall takes you to the most revered sacred sites in the ancient world as well as newly discovered ones that are emerging as power points critical to our evolution as a planet. With the assistance of specially selected crystals and accompanying meditations and rituals, you can open the doorways to transformation and healing.