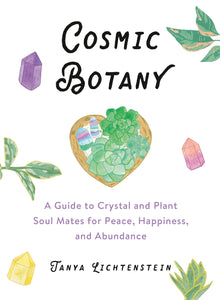 Cosmic Botany: A Guide to Crystal and Plant Soul Mates for Peace, Happiness, and Abundance
The Mind's Eye II
Regular price $18.00 Sale
A delightful illustrated guide to pairing plants and crystals to maximize their healing and energizing benefits.
Greening your home is a powerful way to bring well-being and a sense of peace into any space, and adding crystals to the mix amplifies their vibrational energy and elevates those benefits to the next level. Whether you are looking for love, calm, prosperity, or merely inspiration to declutter your house and mind, Tanya Lichtenstein demonstrates how pairing plant and crystal soul mates will help both you and them align with the flow of the universe.
Plants and crystals are a timeless love story. Become an alchemical matchmaker and learn how syncing these natural allies can help your houseplants thrive, cleanse and ignite the powers of crystals, and make your home an oasis. Their potent synergy will allow you to reconnect with your intentions and reflect on the present moment. Discover how to effectively use more than 40 plant and crystal combinations, from jade pothos and pyrite for abundance, to string-of-pearls plant and amazonite for a worry detox, to aloe vera and apophyllite for self-care.