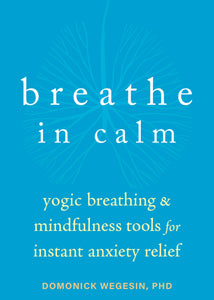 Breathe In Calm: Yogic Breathing and Mindfulness Tools for Instant Anxiety Relief
The Mind's Eye II
Regular price $16.95 Sale
In times of intense stress and anxiety, you need instant relief. Breathe In Calm offers powerful neuroscience-based strategies grounded in mindfulness and yogic breathing to help you find the peace you deserve.
Anxiety affects all aspects of life—including career, family, and relationships. And if you have anxiety, you may feel helpless against your symptoms, and a victim to their impact. But nothing could be further from the truth. You are stronger than your anxiety, and you have all the resources you need to manage it. You just need to learn how to use them. This practical guide will empower you to take charge of your anxiety, so you can take charge of your life.
In Breathe in Calm, a neuroscientist and yoga expert offers powerful tips to help you identify when anxiety is rising, so you can stop feeling helpless and start being proactive. You'll find calming tools—including yogic breathing, mindfulness, and acceptance—to actively soothe your nervous system and regulate your physical and emotional state. You'll also learn ways to stay calm in the moment, develop confidence, and courageously move forward in pursuing the life you desire.
This anti-anxiety tool kit includes:
Yogic breathing practices and easy postures to soothe the body and mind

Mindfulness and acceptance tools to help you stay grounded and focused on what matters

Tools to help you gain awareness of the habits driving your anxiety

Kindness and compassion tools for self-care

Tons of downloadable guided meditations and songs
Anxiety doesn't have to run your life. If you're ready to breathe in calm, and breathe out stress, worry, and anxiety—this book will show you how to get started right away.