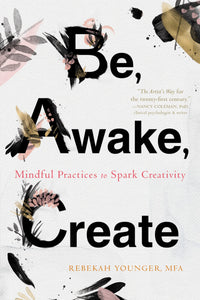 Be, Awake, Mindful Practices to Spark Creativity Create
The Mind's Eye II
Regular price $19.95 Sale
Settle your mind, connect with the moment, and unleash your creativity with this unique and mindful art journal.  

In our demanding, fast-paced culture, it's increasingly important to find ways to decompress and recuperate from the busyness and stress of life. More and more, mindfulness and creativity are being recognized as antidotes to the speed and overstimulation of modern society. This beautiful book combines the two, offering both creative and meditative practices to provide a guided journey into contemplative art for healing, relaxation, deeper connection, and greater well-being.
Rather than focusing on any one medium or art form, this unique guide offers basic meditation instructions, and a variety of creative prompts and activities--from collage and coloring to meditative mark making and sketching to photography and perceptual exercises--making it perfect for anyone who wants to deepen and cultivate their mindfulness and creativity.
With these artistic and introspective practices, you'll put meditation into action, and learn to view yourself and your own creative process without judgment or aggression. Using 
Be, Awake, Create
, you'll see beyond habitual patterns, discover the richness of your world, and recognize the ordinary magic of your own creativity, with greater freshness of expression and spontaneity.
By cultivating awareness and allowing yourself to play in the open space of artistic creation, you'll come to discover all of the positive impacts mindfulness and creativity can have on every area of your life.